Dentures and Partial Dentures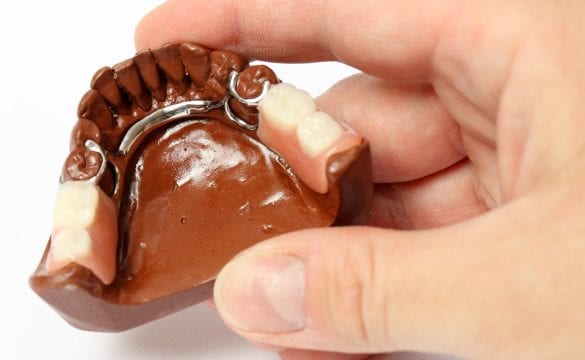 Complete dentures can be either conventional or immediate. If all remaining teeth need to be removed, a denture is necessary.
Conventional dentures are made approximately 8 weeks after all remaining teeth are extracted. Immediate dentures are made before all teeth are extracted and are delivered the same day as the teeth are removed. This is beneficial if the patient does not want to go the 8 weeks without teeth. The patient can leave with a beautiful new smile. Immediate dentures do need to be temporarily re-lined for 4-6 months as the patient is healing, and then a new complete denture can be made or a permanent reline can be done. Immediate dentures are considered more of a temporary denture until healing is complete and a new complete denture can be made. We can customize the size, color, and shape of your teeth to have a natural and beautiful result. Dentures can be life changing for patients and will allow them to smile again with confidence.
Removable partial dentures are used when there are some teeth that are healthy enough to save and the gums around the remaining teeth are healthy as well. There are various types of partial dentures that can be utilized. The dentist will go over the pros and cons of each and determine what works best for you. Partial dentures not only fill the space but prevent the remaining teeth from shifting, thus getting out of alignment and changing your bite.
Our Promotions
Paradise Valley Family Dental Offers cost saving promotions for our patients.
We have ZOOM! tooth whitening and at-home tooth whitening specials offered when you mention our website.
Call (602) 671-2292 to learn about our dazzling cost saving specials!
Everyone appreciates a bright, healthy and beautiful smile!